What is a Rotary Valve?

It is a compact mechanical device for continuously discharging bulk powders or granules under gravity flow. By definition it is the simplest of machines having only one moving part (ignoring the drive); a multi-vane rotor revolving in close contact in the housing and where the housing has an inlet at the top, and an outlet at the bottom.
Despite its simplicity it offers several functional uses:-
* Control product flow rate to the required rate (fixed or variable)
* Maintain a gas pressure differential between the inlet & outlet (AIRLOCK)
* Act as an explosion barrier
* Act as a Flame Barrier
* Act as a process isolator / barrier
As well as satisfying any one or any combination of these needs, the valve also has to overcome
any adverse characteristics of the product being handled. To complicate matters further product
characteristics can be altered by the duty conditions which are not always stable.
Notwithstanding the above some 60%+ of applications can be readily satisfied from standard
components and, if necessary, the inclusion of common additional features. The remainder tend to
require specialist input in order to ensure satisfactory performance and service life.
In all cases, technically competent suppliers will examine the duty carefully to ensure that the right
unit is offered, and to be sure that any special considerations are identified and provision made.


EXPLANATION OF A ROTARY AIRLOCK VALVE

Rotary AIRLOCKs are referred to by many different names. Some are appropriate, and some are not. There are three appropriate names which are universally accepted when referring to this product.
Technically, they all refer to a similar device in terms of design and appearance. These are:
1. Rotary Feeder
2. Rotary Valve
3. Rotary AIRLOCK
Most suppliers and users are familiar with all these terms. We will focus on the term 'rotary AIRLOCK' for the purpose of this discussion. To further identify the name 'rotary AIRLOCK', we will define the two separate terms.

Rotary Valve

,

AIRLOCK

S

Function
Our Rotary Valves, designed according to a criteria of maximum applicative
universality, are suitable for controlled feeding or discharging of products in powder or
granular form, from silos, hoppers, pneumatic conveying systems, bag filters or cyclones.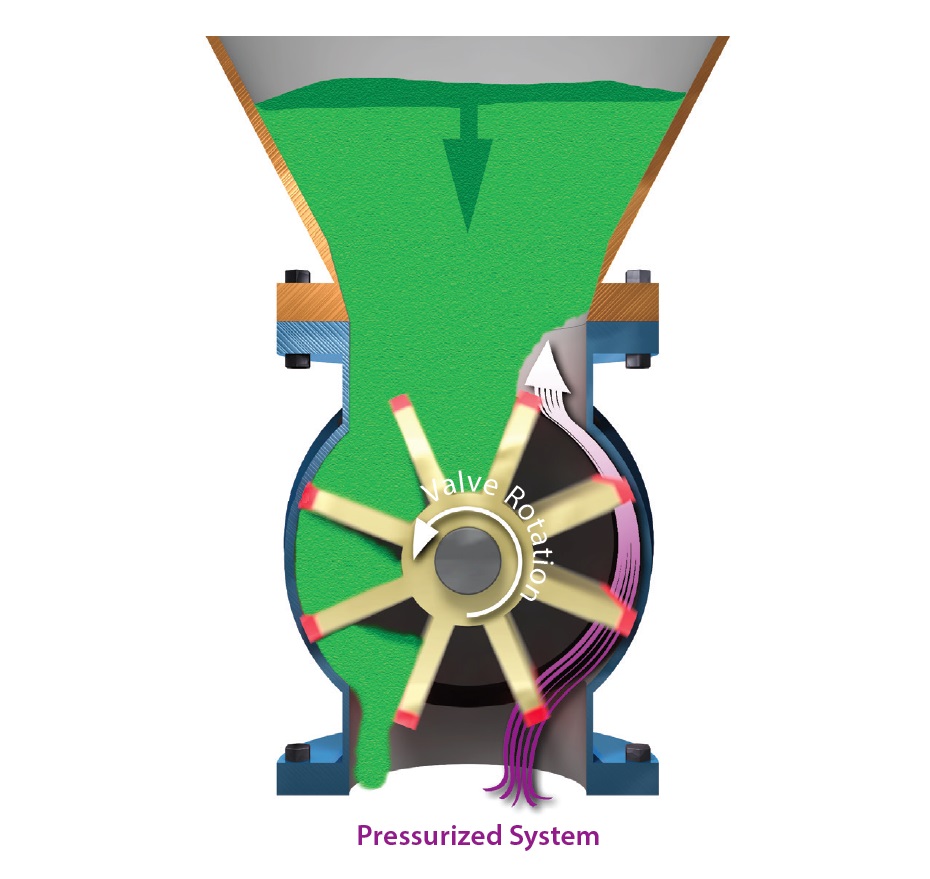 AIRLOCK, ROTARY VALVE - ROTOR TYPES
Rotary Valve - Ailocks-Star Feeder internal Rotors have options such as blade, rounded type, adjusted blade type, stripper and polyamide.

• OPEN AND CLOSED END ROTORS
• RELIEVED ROTOR TIPS
• REDUCE CAPACITY ROTORS
• TEFLON COATED AND NICKEL PLATED ROTORS
• ROUND AND SQUARE FLANGE
• DIRECT-DRIVE AND CUSTOM DRIVE PACKAGES
• HIGH TEMPERATURE MODIFICATIONS
• SPECIAL PAINT
• FLEX TIPS
• ABRASION RESISTANT TIPS
• CHROME PLATED HOUSINGS
• CAVITY AND SHAFT AIR PURGE
Every pneumatic process is unique, so DOSERAY customizes every solution to meet your needs. Pneumatic conveying systems and components are what we know, no
matter how large or small your line. Tell us what you intend to accomplish and we'll make sure the pieces fit.Dependable, versatile systems. Solutions that fit. It's the foundation of our business.

Air Filtration provides a complete line of rotary valve - AIRLOCKs suitable for AIR LOCK applications ranging from gravity discharge of filters, rotary valves, cyclone dust collectors, and rotary valve - AIRLOCK storage devices to precision feeders for dilute phase and continuous dense phase pneumatic conveying systems. Rotary Valve / AIRLOCK Feeders are used in pneumatic conveying systems, dust control equipment, and as volumetric feed-controls to maintain an even flow of material through processing systems. The basic use of the rotary valve, AIRLOCK feeder is as an AIRLOCK transition point, sealing pressurized systems against loss of air or gas while maintaining a flow of material between components with different pressure. Rotary Valve, AIRLOCK Valves are also widely used as volumetric feeders for metering materials at precise flow rates from bins, hoppers, or silos onto conveying or processing systems.


BLOW-THROUGH ROTARY AIRLOCK VALVE - DOSING OF POWDER FOR FEEDING PNEUMATIC CONVEY SYSTEMS
Cast iron, 304, 316L stainless construction
These rotary AIRLOCK valves are designed for extraction applications under devices (supported or not), gravity flow or feeding in pneumatic conveying (depression or pressure).

The rotary AIRLOCK valves are designed for feeding and controlled discharge of powdered or granular in silos, hoppers, pneumatic conveying systems, bag filters, cyclones in powder handling processes.otary valve is of no use by itself. Rotary valve, AIRLOCKs are useful as one component in a bulk or specialty material handling system. Rotary Valve, AIRLOCK Feeders have wide application in industry wherever dry free-flowing powders, granules, crystals, or pellets are used. Typical materials include: cement, sugar, minerals, grains, plastics, dust, fly ash, flour, gypsum, lime, coffee, cereals, pharmaceuticals, etc...

CAUSES OF WEAR AND ABRASION TO ROTARY
AIRLOCK VALVES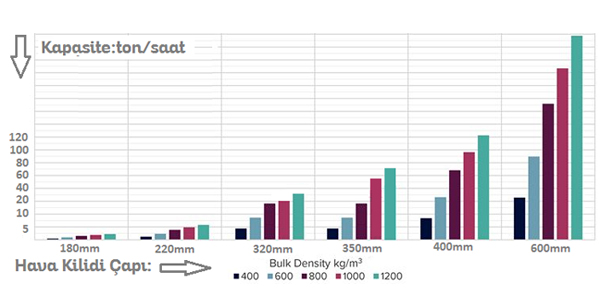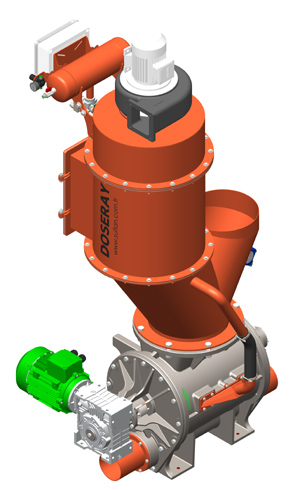 Among the leading causes of rotary AIRLOCK valve failures is wear to either rotor, or housing, or both. Wear of these components occurs during use. Since a rotary AIRLOCK valve is primarily a material handling device, it is subject to erosion and abrasion created by the material being processed. The proper selection of one rotary AIRLOCK valve for an application depends, to a large extent, on the nature and characteristics of the material being processed; and how the material is being processed. From an overview, rotary AIRLOCK valves are used in material processing applications ranging from flour to rocks, plastics to potatoes, dust to detergents, peanut hulls to cotton seed, carrot tops to salt, coal to rice, wood chips to aluminum shavings, and many, many more materials too numerous to mention. Some of these materials are abrasive, some are not. Those that are abrasive are not necessarily equally abrasive by comparison. There are, of course, other considerations for each material other than abrasion, but our focus for this discussion is going to be on the abrasive characteristics and their effect on the AIRLOCK components Wear, due to abrasion, from a material being processed through a rotary AIRLOCK valve can be divided into two types:
1. Surface drag abrasion
2. Pneumatic assisted abrasion
Lebels:

rotary valve, rotary AIRLOCK, AIRLOCK valve, rotary feeder, blow through rotary valve, flow through AIRLOCK, silo discharge, cyclone discharge, dust collection, pneumatic conveying, rotary AIR LOCK valve, rotary valve producer , rotary valve price, rotary valve draw
MORE