How the AIRLOCK Rotary Valve Star Feeder Valve is Used?
When performing transfer on all pneumatic conveying lines, it is a device to feed the material down to the line and separate the raw material pneumatically transferred from the air. Blade forms, tolerances, revolution speeds vary depending on type of process and type of the product to be transported. Likewise, it may also act as breaker depending on the characteristics of the material to be transported. Even it may also operate coupled with the breakers.Rotary Valve AIRLOCKs are designed for use under gravity,pressure and vacuum conditions.
HEAVY DUTY Rotary Valve

The prime function of a rotary airlock is to regulate the flow from one chamber to another while maintaining a good airlock condition. The product is mainly in dry powder or granular form. In the dust filtration field, a good airlock is essential on cyclone and bag filter applications in order that the manufacturers quoted high dust collection efficiencies can be maintained. Airlocks are also important in the pneumatic conveying industry, where product is regulated into a pressure or vacuum conveying line while minimising air leakage. With DOSERAY there are no double standards, all our standard rotary valves and airlocks are precision machined for close tolerances and minimal eccentricities. Pressure differentials to 20psi and temperatures to 400°C are considered the norm and extreme pressures and temperatures can be accommodated with special designs. If your application requires such considerations contact the DOSERAY Engineering team.

Our standard Rotary Airlocks are available with circular or square inlets from 2" up to 36".

DOSERAY's Heavy Duty Rotary Airlocks are manufactured in accordance with NFPA 69 Standards for use as deflagration isolation by flame quenching and material blocking. All valves are manufactured in either Cast Iron or Stainless Steel from 6" to 24" diameter. Airlocks come with 8 vane fabricated steel rotors with close tolerance to the housing bore and end covers with at least 2 vanes on each side of the valve housing in position of minimum clearance at all times. We offer special motors and switches as needed for the hazardous area environment. The majority of our NFPA Airlocks are available for quick shipment from our facility in TURKEY..

DOSERAY Dairy Accepted Rotary Airlocks
DOSERAY's USDA Dairy Accepted line of Rotary Airlocks are designed for use in sanitary applications in the food, dairy, pharmaceutical and chemical industries where regular cleaning is required to prevent product contamination.

The product contact surfaces of the airlock are manufactured in 316 Stainless Steel and polished to a 150 grit finish, ensuring that there are no lodgement points allowing the product to flow smoothly. Furthermore, the airlock is equipped with a slide rail mechanism allowing for the quick and easy removal of the rotor from the airlock body. This addition substantially reduces the amount of downtime and the number of man hours required for the cleaning and maintenance of the rotor and airlock internals.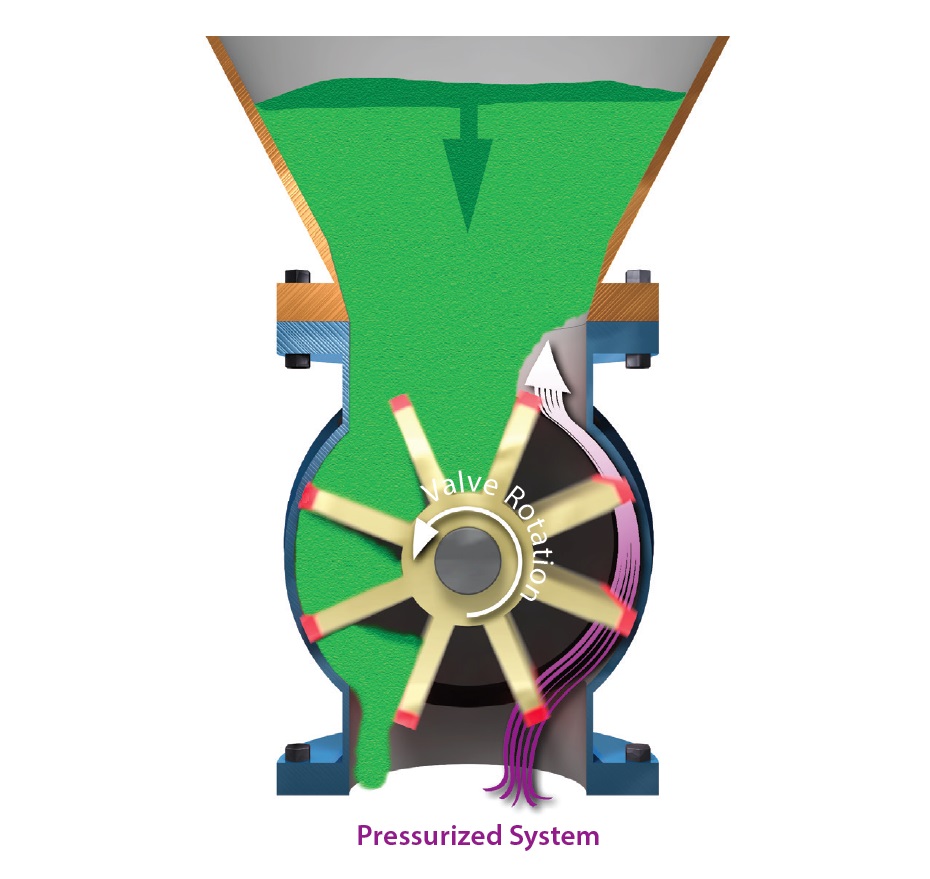 AIRLOCK, ROTARY VALVE - ROTOR TYPES
Rotary Valve - Ailocks-Star Feeder internal Rotors have options such as blade, rounded type, adjusted blade type, stripper and polyamide.
Air Filtration provides a complete line of rotary valve - AIRLOCKs suitable for AIR LOCK applications ranging from gravity discharge of filters, rotary valves, cyclone dust collectors, and rotary valve - AIRLOCK storage devices to precision feeders for dilute phase and continuous dense phase pneumatic conveying systems. Rotary Valve / AIRLOCK Feeders are used in pneumatic conveying systems, dust control equipment, and as volumetric feed-controls to maintain an even flow of material through processing systems. The basic use of the rotary valve, AIRLOCK feeder is as an AIRLOCK transition point, sealing pressurized systems against loss of air or gas while maintaining a flow of material between components with different pressure. Rotary Valve, AIRLOCK Valves are also widely used as volumetric feeders for metering materials at precise flow rates from bins, hoppers, or silos onto conveying or processing systems.


A rotary valve is of no use by itself. Rotary valve, AIRLOCKs are useful as one component in a bulk or specialty material handling system. Rotary Valve, AIRLOCK Feeders have wide application in industry wherever dry free-flowing powders, granules, crystals, or pellets are used. Typical materials include: cement, sugar, minerals, grains, plastics, dust, fly ash, flour, gypsum, lime, coffee, cereals, pharmaceuticals, etc...

ROTARY VALVE AND PRODUCTS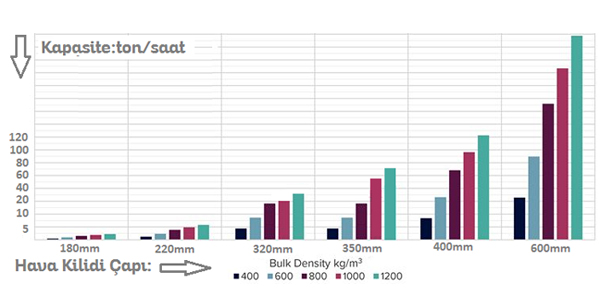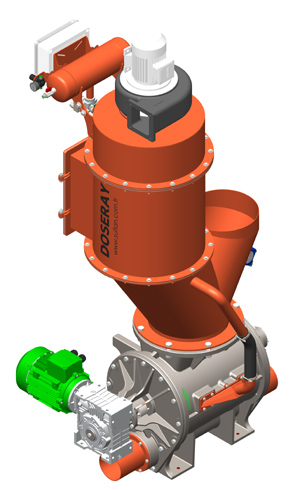 Rotary AIRLOCK ( rotary valve) feeders have wide application in industry wherever dry free-flowing powders, granules, crystals, or pellets are used. Typical materials include: cement, ore, sugar, minerals, grains, plastics, dust, fly ash, flour, gypsum, lime, coffee, cereals, pharmaceuticals, spray dryer, etc...
Lebels:

rotary valve, rotary AIRLOCK, AIRLOCK valve, rotary feeder, blow through rotary valve, flow through AIRLOCK, silo discharge, cyclone discharge, dust collection, pneumatic conveying, rotary AIR LOCK valve, rotary valve producer , rotary valve price, rotary valve draw
MORE